The Met, Mother's Day, and Comme Des Garcons: Exploring the relationship of Mother's & Fashion
The Met, Mother's Day, and Comme Des Garcons, and you may wonder what do they all have in common. The simple explanation is well My mother and I, have a Mother's Day tradition we started 6 years ago, two weeks after the Met Gala, we go see the Costume Institutes' Spring Exhibit. This year happens to be the astounding and Avant garde work of Rei Kawakubo, founder and designer of Comme Des Garcons.
So what does this have to do with business like ours? Well for one I want to explore the fact that our own Mother's (parent's in general) influence our personal style and can influence our relationship with clothing. The tradition of celebrating Mother's Day at the Metropolitan Museum of Art isn't only our own, attending this past Sunday, we saw whole families either looking in awe or confusion at the Comme Des Garcons exhibit, thus I also would love to provide you with a viewpoint on why this exhibit was successful and important, and images of it if you can't attend. As well, seeing Rei Kawakubo's influences through her past collections of how she has explored our bodies relationship to life, death, and birth, which are all aspects of motherhood in no particular order.
A Mother's Influence
My mother has had a profound influence on my relationship with fashion and clothing. From a young age, we went shopping and she has always been honest, sometimes so blunt that I rebelled and purposely did the opposite. When I was a teenager, the time when Avril Levine's "Sk8te Boy," and Spice Girls was prominent was a tricky time for me as a teenager. I varied from wanting to wear outlandish "punk" inspired outfits to overtly sexy "girl power" platforms and mini dresses. We constantly were fighting about the length of my skirt, or how I might poke an eye out with spiked choker. Eventually, my mom helped my find the middle ground of various plaid bottoms and rocker tees, spikes were out, too dangerous for school, and something that spoke to personal style, just wanting to present the best version of myself to the world.
Through our time exploring my style and her style, we found a middle ground and a good way to communicate. She is now one of the only people I trust to give me an honest and thoughtful opinion of an outfit or purchase. We have taken this experience and created our method as personal stylist, on how we service our clientele. Now, you can find us sometimes even wearing the same piece, and just styling it in our own way. She doesn't realize it but her knowledge of fit, construction, and fabric has encouraged me to not only educate myself on these things, but help work with other's to help them bring out their best self through their wardrobe. The saying, "Give a girl the right pair of shoes, and she can conquer the world," is true, but give a woman the path and confidence to show her best self to the word and she really will conquer the world. My mom did that for me, and now I want to do that for the world!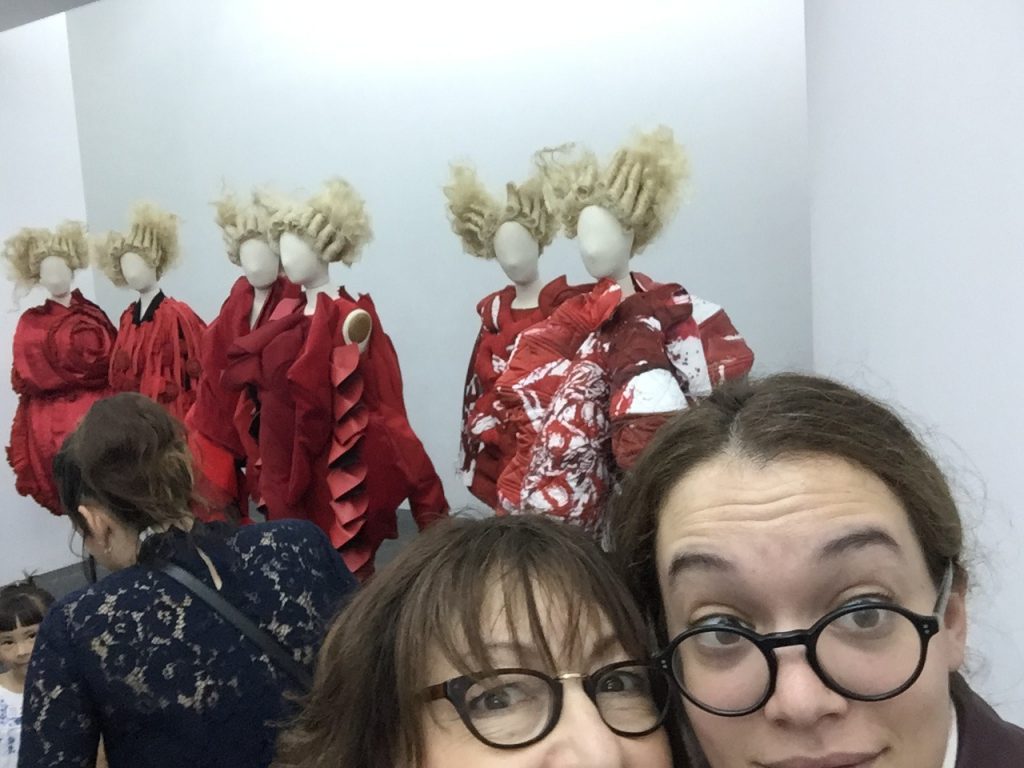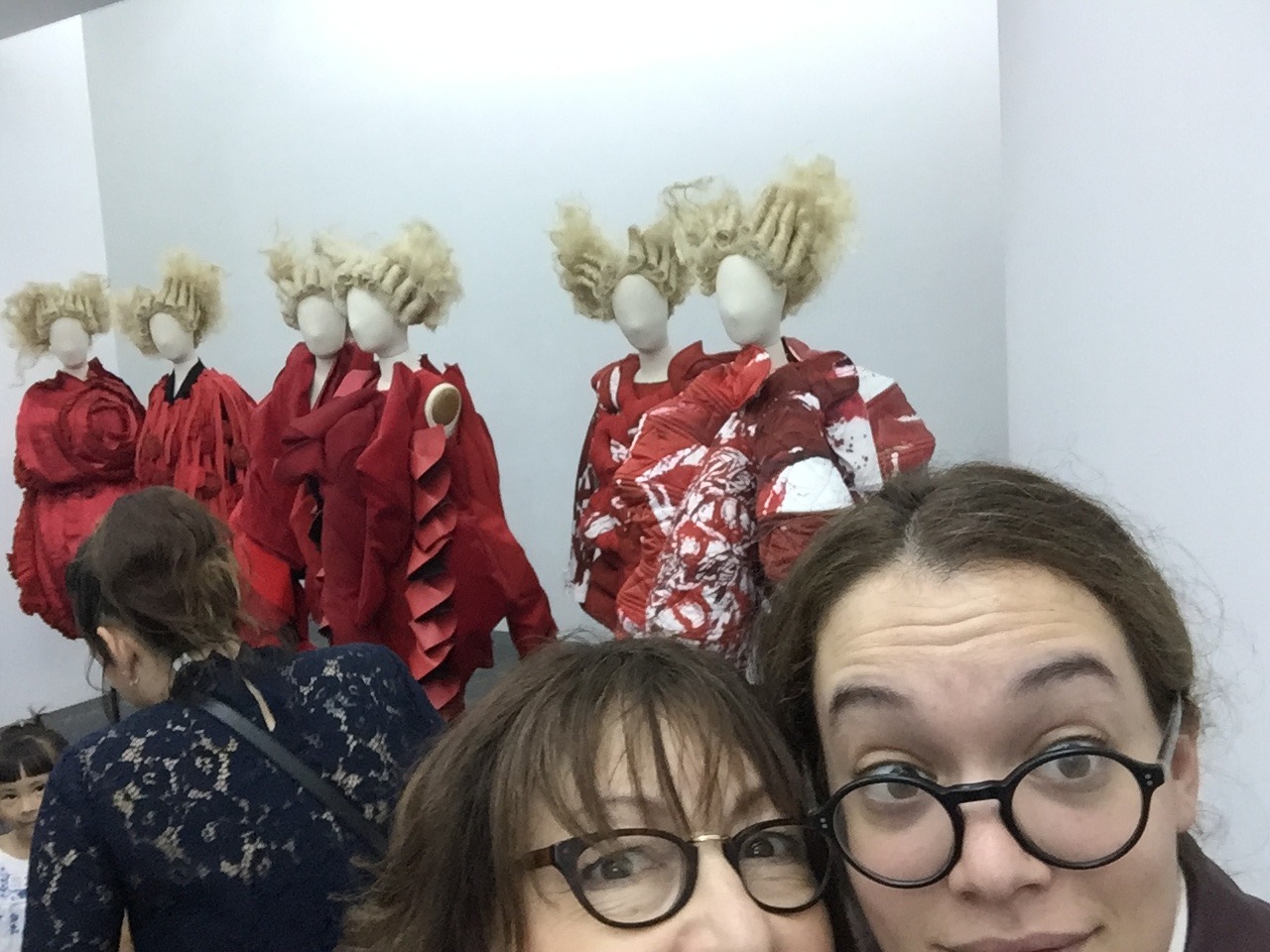 The Met's Costume Institute Exhibit: A tradition that not only educates but enlightens
In 1959, the Metropolitan Museum of Art joined with the Museum of Costume Art to become The Costume Institute, is now the department that curates the fashion exhibits and has done so successfully for many years. About six years ago we went to our first exhibit for mother's day 2011's Alexander McQueen: Savage Beauty,simply put we fell in love, we took our time to explore the gorgeous designs up close, and my mother explained the techniques used, and level of difficulty it was to create the pieces in the exhibit. We decided to do this every year on mother's day, a new tradition of exploring and learning about our shared passion of fashion. As we walk through the exhibits analyzing each piece and how it's showcased, it dawned on me, that while I was younger my mother's knowledge influenced my relationship of viewing clothing as art, and vice versa, my knowledge of design houses, designers, and their history is what I bring to the conversation. I have taken the time educate myself on the history of not just the luxury heritage brands, but explore the new and independent designers that pop up, with her knowledge of construction and technique, and mine we have thoughtful and engaging conversations.
Until the most recent exhibit, I never realized, that other families did this as well, whether or not it's tradition or they just had the day to attend, I found myself this year looking to see not only of the reaction of my mother, who until recently did not know of Comme Des Garcons, if you're not a fashion fanatic or die-hard fan of CDG, it's a relatively unknown brand to the masses, but also of those around us. (see continuation of this thought in next section) It fascinated me, and has reunited inspiration in my viewpoint of why the exhibit's the Costume Institute is so important in today's world, not just as beautiful pieces to look at, but to show how ingrained our relationship with clothing can be into our daily lives.
One of the best things I learned in school during history, was you can't know where you are going, if you can't interpret and understand the past. With the exhibits show, the Costume Institute allows us to explore how intentional some clothing choices were for historic moments. Such as Jackie Kennedy's wardrobe during her time as first lady, or why young women in the 30's chose to shorten their hemlines and show of their ankles and knees. These choices while seemingly simple at the time, sparked conversation, and that's what our clothing does, it allows us to express our self, even without us realizing it. You may not care about what you are wearing, however, when you choose a functional wardrobe that says something to those around you. Look at how Carhartt is now selling to young hipsters in Brooklyn and still a staple as ACE hardware. Fashion makes a statement, and it's important to have museums curating exhibits to explain, showcase, and spark the conversations.
Comme Des Garcons: Art of the In-Between
This particular exhibit makes history in many ways, one being that it took Andrew Bolton 13 years convincing the Japanese designer to actually participate, as well this particular exhibit is not a retrospective, it is not set up with the usual text, stating which collection the garment came form or the materials use, or any of the influence. The space is all white, and allows the pieces themselves to do the majority of speaking, it leaves the viewer to interpret it, which is different from past exhibits.
While walking through the exhibit you have a choice to pick up the booklet at the beginning, and read as you look. My mother and I decided to just enjoy the space and the clothing. I was already familiar with CDG, and had enough information to hopefully answer any questions my mother may have, as she was not familiar with the designer. It's important to note the crowd around us were either die hard CDG fans or those who just wanted to see what the hype was all about. Walking around, you heard people either in awe, talking about the inspiration and influences, or those questioning, "who would actually wear that?" It only added to exhibits atmosphere and presentation. The exhibit space is all encompassing, you need to look around walls, up and, through things to see the various pieces. You explore Rei's influences from the beginning in 1979 to some of her most recent collections.
In the center of the exhibit, you see a particularly depressingly beautiful outfit labeled Birth/Marriage/Death, it's literally a coat of black polyester lace and a net with children's dresses and bonnets in various materials all in black. It's from CDG's Autumn/winter 2015-16 collection, when we were looking at it my mom was explaining the detail, and construction technique, I heard someone say, "well, that is definitely death in an outfit." Granted, not many of CDG's pieces when presented together can be seen as wearable, however, the artistry behind them allows the view to interpret them in relation to their experience. That is why this exhibit is successful, it allows a designer, who has had a profound influence on the fashion industry from her first collection in 1969, to be shown in a space that can reach out to the masses. You may not understand it, you may not get it, but you have the ability if you want to interpret it. The exhibit presents the clothing very democratically, it's mostly eye level, you interact with the clothing on a more personal level, something you may gain from it, is that clothing and fashion has no limitations. Something ugly can be beautiful, and something beautiful could actually be ugly.
Kawakubo has compared her work to Zen koans, they are the unsolvable riddles Buddhist teachers present to their students. Walking through the space, you can see the themes that are up for interpretation of Kawakubo's work, and as you interact with the crowd and the clothing, you get mixed reviews. My mother, was amazed at the technique and construction. She found items she would wear herself, and other's that she could just appreciate as piece in a museum. The best thing she pointed out was the finishing's on the garment felt "raw" at points. Allowing the garment to possibly fray or the seems to be exposed. It's not something many people would notice, unless they knew how to make it themselves. And again, she had influence on my relationship to CDG. I find the work put into the clothes beautiful, and  interpret the clothing coming out of CDG as art, than wearable clothing. She pointed out, that for the right person, it is wearable.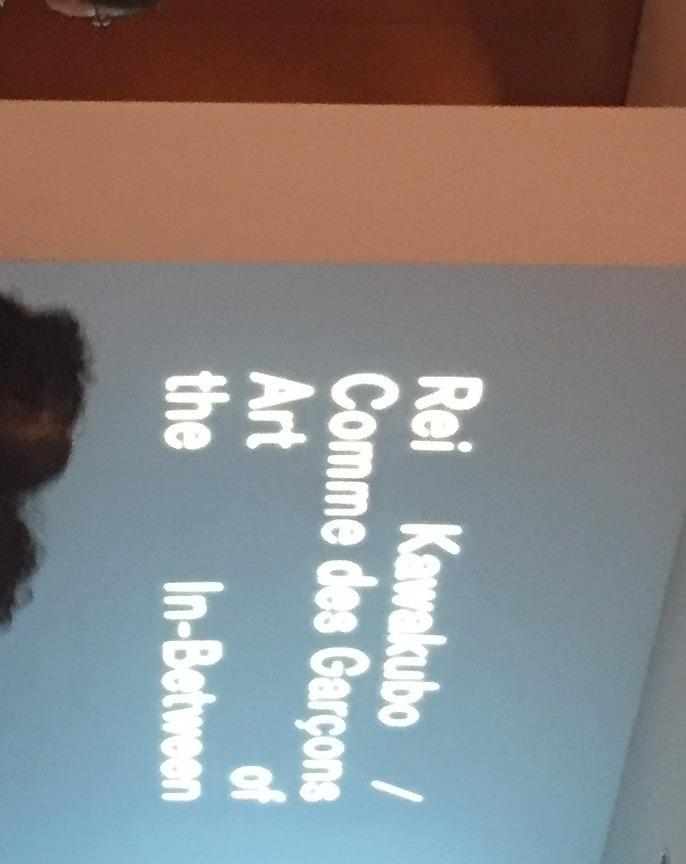 In the End.
In the end, each person's relationship with clothing, their mother's (parental figure), and art exhibits are varied and can depend on numerous influences. What I can say, that while heritage brands, fashion icons, music, life experience, and art have had a profound influence on my passion for dressing people. The original person to ignite that fire in me, was my mother, and I am so thankful she did.