A Perfect Mother and Daughter Night Out!
We were very lucky to get into a pre-screening of The Divine Order! We went in knowing not much just that it was a movie about the women's suffrage movement in Switzerland in 1971. Yes, you heard that correctly women did not earn the right to vote in Switzerland till 1971. So we went to screening with little to no knowledge or expectation, just some curiosity. What we came out with was a lot of giggles and laughter, and an inspired story, and a long discussion about the wonderful way the costume design added to the story telling. Below we give you a review, some Q&A from the writer & director Petra Volpe, and a break down of how wonderful a job Linda Harper did with the Costumes!
An inspired story with lots of love and laughs!
Petra Volpe wrote a wonderful story about a devoted and dutiful housewife Nora, played by Marie Leuenberger (winner of a Best Actress award at Tribeca) and how her frustration with her husbands ability to deny her a chance at working part-time became the literally poster child of her small town's suffragette movement. She goes on a journey of self discovery, making new friendships, and dealing with all the best parts of celebrity: humiliation, threats, and the possible end of her marriage. However, she stands resilient and strong and convinces the women of her village to go on strike, with some good results in the end.
In this amazing story we can't just focus on Nora's journey because some of the best laugh's from the film and greatest support comes from the supporting cast of women, and men! One of our favorite characters was the widow and former owner of the restaurant "Bären" Vroni, played by Sibylle Brunner, she not only pushes for Nora to be the poster child but does so hilariously and charmingly in a way that has you wishing you had your own Vroni in your back pocket. Another delightful character is Graziella (Marta Zoffoli), a divorced Italian who took over the restaurant Vroni once ran and opened a pizzeria in its places. She adds some lively and more worldly outlook to the women of the small village. They are also joined by Therese (Rachel Braunschweig), Nora's sister-in-law. One of the scenes we enjoyed most was when the group travel's to Zurich to partake in a women's workshop and march for the right to vote. It's during this trip that Nora realizes that there is more to the women's movement that being able to speak her mind and vote. But also that her marital sex life is not nearly what it could and should be. This delightful and amusing cast of females have just as comical male counter parts. Our two favorite were Nora's husband Hans (Max Simonischek) whom plays the balance of trying to be a strong male role and truly supportive husband and partner. He is joined by his stubborn, traditional, and rather grouchy father Gottfried (Peter Freiburghaus) whom at one point with just glance comically shows Hans just what he thinks he should do with his wife. This wonderful cast bring to life Petra Volpe's script. She was challenged to develop an independent story outside of just the historical context of the women's suffrage movement in Switzerland. It took time and research to pick the setting and create the right tone, which we feel was successfully executed as an inspired and feel good movie. It's not a surprise to us that this movie is Switzerland's submission for the Academy Awards Best Foreign-Language Film 2018 or that it won the audience award for best feature at the Tribeca Film Festival 2017 and the Best Fiction Film at the Traverse City Film Festival 2017.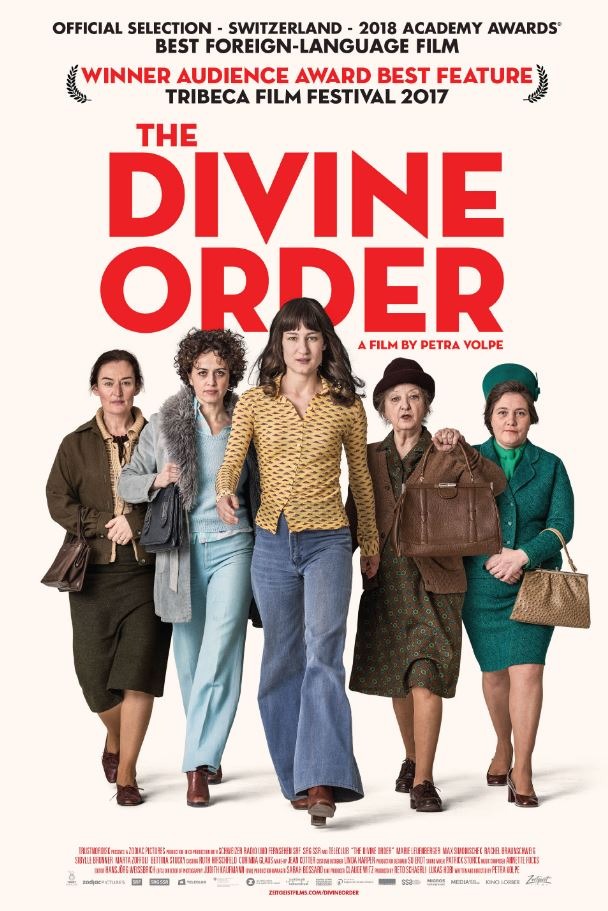 Movie Poster
INTERVIEW WITH PETRA VOLPE
The below questions and answers were provided by A Zeitgeist Films Release in Association with Kino Lorber, we had similar questions to those below.
The Divine Order is the first feature film about Swiss women's suffrage and its late introduction in 1971. How did you approach the subject?
The idea to make a film about Swiss women's suffrage initially opens a very wide field. That's why I first researched for a long time, to hear as many voices as possible and to examine the subject from a variety of perspectives. Only then did I develop the characters piece by piece. All are inspired by women that I met in the course of my research. In the development of the script I especially wanted to capture the atmosphere of the time and not simply historical facts. I wanted to tell a story that depicts how unfree women were back then, how much they were treated like possessions and how great the opposition was, even in 1971, when the women demanded equal political rights.
Is the character Nora based on a real person?
The idea for my protagonist Nora came from a green deposit slip in the women's suffrage opponents Gosteli archive. On it, a young housewife and mother in beautiful, careful handwriting wrote: She had never been politically involved, but this call by the opponents of the vote now made her so angry that she was even considering actively fighting for the voting right! That was the first spark for Nora, a woman who wakes up and evolves into a political person.
*Note- Because we came into the viewing with not much information the above question was important because one of our questions was on whether or not the movie was a true story. What we learned was that these characters were inspired by real women of the time*
How did you develop the visual style of the film?
Three years before filming I began regularly meeting with my costume designer Linda Harper, my make-up artist Jean Cotter, my production designer Su Erdt and my cinematographer Judith Kaufmann. They all did very thorough research. We not only have countless archives but also private photo albums – we knew that in order to revive this time period, it could not seem stylized, but must be as precise as possible. The colors, furniture and costumes contribute on a basic visual level to relating the limitations with which women, but also men, lived. Both sexes are prisoners of their roles, and this is expressed in the furnishings, make-up and costume.
I also looked at material from that time for the staging of the characters. People moved differently and spoke differently. They were all much more subdued and slower. I wanted to take that into account, but in a way that wouldn't appear too slow to today's audience. That was a big challenge, and we had to rehearse a lot to find a good balance.
Many key positions during filming (director, writer, camera, equipment, costumes, etc.) were in women's hands. Was that your intention?
To me my colleagues are people first and foremost, who I appreciate for their creativity and whose work I admire. They all stand out for the strength of their work and that they have a good sense of humor and a big heart. I have male colleagues who are more feminine than me or any other woman on set; then I have women on set who are really tough. The 7 biological sex doesn't play such a big part for me. Being a woman, being a man, these are roles you can play with, but are ultimately not that important on a fundamental human level. And yet I think it is important that women are supported. In my capacity as director I can help women get jobs, that they are given an opportunity. You just have to look at the statistics and it is evident that women remain at a disadvantage in the professional world, and that is no different in the film industry
Costume Design: How clothing helps tell a story
Petra Volpe & Linda Harper really did an amazing job not only in the historical accuracy of the time period, but also how the characters used clothing to define their journey. When we first see Nora she is in a very modest and very muted outfit. As she learns and reads her style also evolves. Once she meets Graziella she gets a new more modern haircut and jeans! She starts to wear more color, rather than the browns and muted tons prior to her enligtenment. Vroni also wears similar more traditional styles, but Graziella comes in with lots of curls and exuberant color and pattern, and helps lead these women on their journey of  enlightenment.
As the women, go along their journey you see the change, even with the men. By the final scene the whole town is wearing more vibrant colors. And the visuals seem to be brighter as well. The point to take away is how not only does clothing help tell a story and the mood, but also how much clothing is a conscious or unconscious choice to voice our feelings or opinion. When we watched this movie we noticed the small nuances that those already fighting for women's right to vote, or whom had a stronger connection to their sexuality wore more vivid colors and more fashion forward styles. These things while not noticed by an untrained eye, add to the vivacious & defined personalities of the characters. We could apply this to real life as well, you consciously or subconsciously choose what you wear everyday and send a message about how you feel to the world. It adds to your story in ways that effects your day to day moods, or defining moments.
There is a reason Hilary wore a white pant suit to the poles this year, and there is a reason this film makes such an impact today. It's because we are in a time where fashion is now more than ever used to make a statement. You can either be authentic and in control of that message or you could allow it to be dictated for you. The last scene in this movie shows an independent woman in her bright red suit voting for the first time with her family watching on in support. Compared the opening shot where she wears a modest skirt and head scarf covering her hair, walking her sons to school and seeing her husband off to work dutifully. This change not only in her dress, but how her husband dresses, shows how they have gone through a tremendous growth towards defining their own style, rules, and future. We hope you make the decision to do the same and go see this dynamic cast in The Divine Order opening today at the Film Forum in NYC!