Closet Confused? Ask Orly & Zahava
This is a new segment where we will take time to answer things about your closet that confuses you! For our first Q & A we talk about transitional wardrobes and how to wear something all year round!
We have been getting a lot of requests for helping our clients figure out what to wear while it's still 80 degrees outside. Our client below, with whom we worked last year transitioned her closet with us from winter to spring, just reached out for advise. Since we know what's in her closet, we found similar items/shapes/colors and suggested the below is the advice and the outfit's we pulled together for her! We wanted to stay in her personal style, as she works in the tech industry, and has more freedom in what she can wear to the office. These are all components we consider when helping our clients define their authentic style and give them closet clarity.  (Please note name and personal information has been changed hidden*)
Dear Fall Friendly*,
First off you don't need to be confused, and you can probably continue to wear some of your summer stuff a little bit longer than you originally thought! You just need to do so in a new way! We don't want you sweating while your going to your work place or transitioning to networking events. Remember one of our top ten clarity rules is for you to pay attention to the weather outside at the moment! Because comfort is key to being able to be stylish all day! So, you already transitioned your wardrobe, well go back and if you haven't put them away, get that midi wrap sleeveless wrap dress, the t-shirt dresses, those trendy sleeve tops, and your mules/slides out! We put together some outfits with similar items to them or with them! And also have suggestions for making these outfits more fall appropriate so you can where them again when it get's cooler.
The Sleeved wrap blouse: We suggested this as an updated version to you for spring to your gingham button down that had to go. Well pair it with those cropped black trousers ( we like these that flair and have a ruffle) with your favorite earrings and a bright set of slides you got this past spring. The weather is still not sock weather so don't be afraid to keep those heels and toes out longer.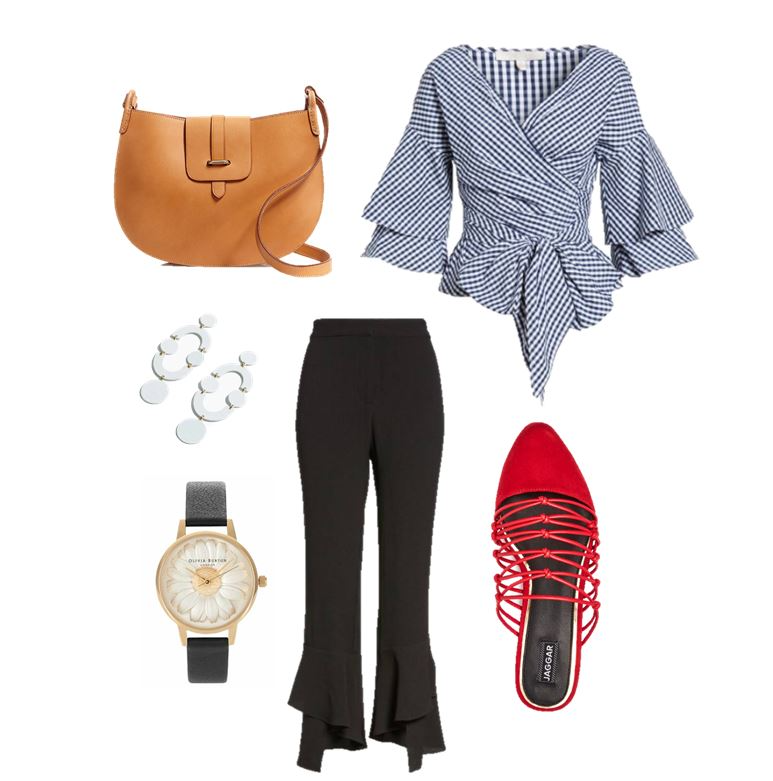 2. Sleeveless striped wrap dress from Wayf: Remember we had you get this for all those summer barbecues and family parties, and especially the fourth of July? Well layer it over a t-shirt and wear it with flats or your white converse. Break out your favorite furry bag from last year, and pair with gold hoops your cotton t-shirt and bag will give some weight to the outfit making it feel fall ready but not overwhelmingly hot.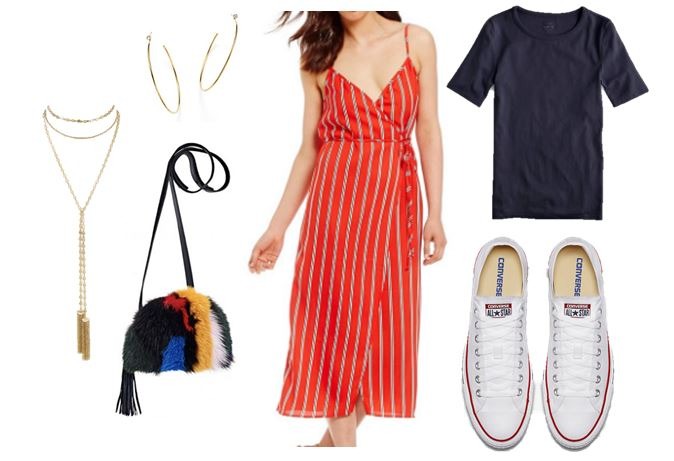 3. Your black Linen Shirt dress and your pink denim skirt. Remember while we shopping we found that classic linen shirt dress, don't pack that away, you can layer it so that it becomes your favorite shirt dress all year long. For this time of year, wearing a lacy bralette underneath, with your high-waisted denim mini skirt, gets you fashion forward and away to change up the dress. Pair with some furry mules, your grandmothers pearls, and some gold bracelet and you have a sweat proof fun fall outfit.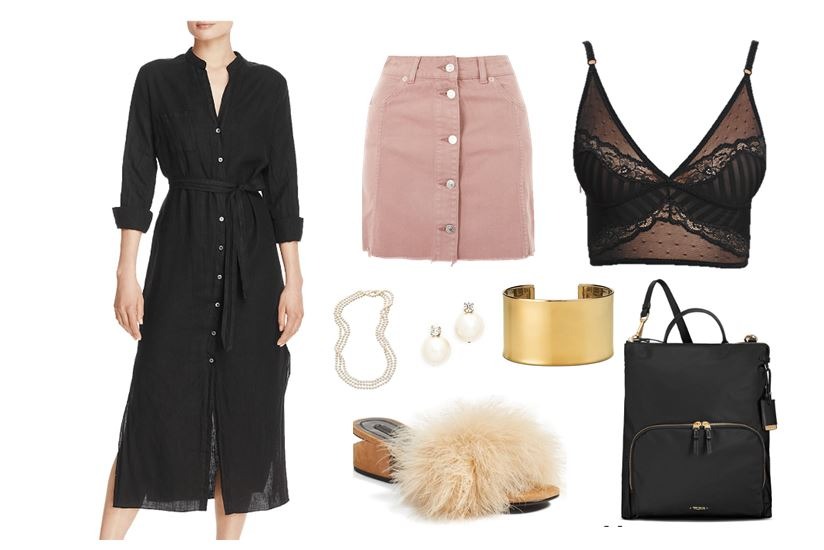 Now remember you can wear most of these again by adding layers. We suggested to our client to purchase light weight long sleeve turtle necks and crew neck t-shirts thin enough to layer underneath different outfits. For the gingham wrap blouse throw on a navy or white shirt underneath. Change out red shoes for your black Chelsea boots or red booties when it get's to cold to not have socks. For the wrap dress, throw a over-sized sweater coat in cream or camel and switch the converse to knee high black or navy suede boots to take the dress further into fall. Layer an off the shoulder sweater dress/tunic in a dusty pink or any color you want and change out the mules for those cool stretch over the knee boots and you have a new outfit! You can even throw on a belt around the waist.
For More Ideas check out our Pinterest board!