Thankful for Ali Stroker & Salons for Change
Last week we had the pleasure of attending Salons for Change first Salon, with Ali Stroker. Salons for Change is wonderful organization, it produces intimate concerts for charity, that are then live-streamed so more people can experience the music. It's about connecting with others through music, and once united giving back to those organizations that need it most. The artist's chose the charity they want the proceeds to go to, Ali chose Life Rolls On and the intimate setting was live streamed to over 700k viewers. Life Rolls On is focused helping those affected by spinal cord injury, have a better quality of life. As we are so thankful for this opportunity we hope you will consider giving a gift to Life Rolls On, you can find links at the bottom of our post.
We had the wonderful opportunity to ask Ali some questions, and  hear her sing! Check out the images and our Q & A below.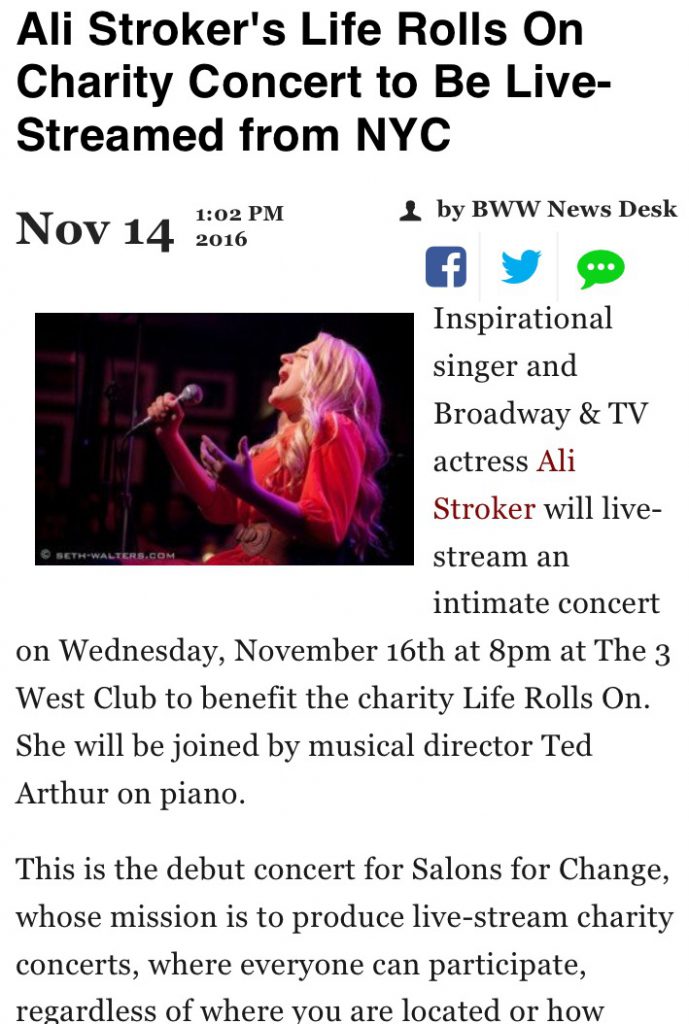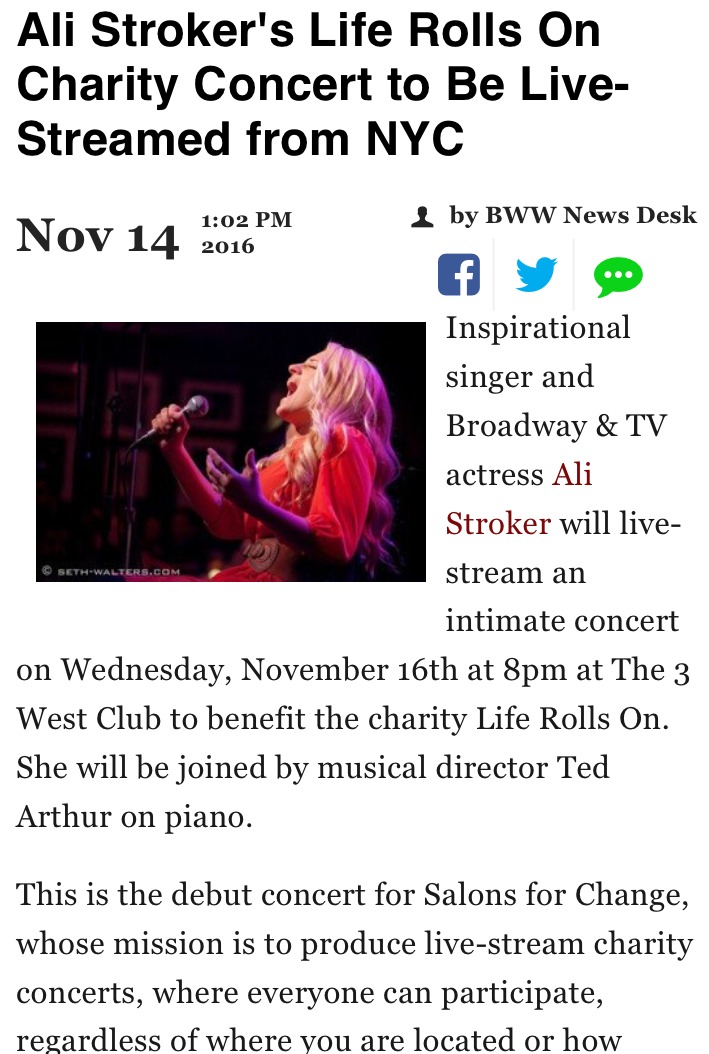 Q. Who are you wearing tonight?
Ali: I'm wearing a skirt by Rachel Antonoff, and she is a really close friend of mine, and adore her, she is amazing. This Jacket is from Zara, I love Zara, and these Nike wedge sneakers, and an Anthropologie necklace.
Q. When Getting dressed each morning, what is a key component to an outfit for you?
Ali: I love anything that's a little over the top. So, I've learned to find pieces that are really kind of dramatic, and then pair them with things that are pretty chill and neutral, so there is one special pieces!
I like statement pieces.
Q. Do you have any stores you typically shop in?
I love Anthropologie and I love Zara, those are my go too.
Q. Since it's almost the holiday season, what is your favorite thing to do that's seasonably holiday in New York?
My favorite thing to do around New York around the holidays, I would say is go shopping. This girl love's to shop. I would say I like to
go down 5th avenue, and even window shopping is so fun. I like Christmas shopping. Also, My sister and I like to make homemade holiday cards.
May it be filled with joy and love!